Production information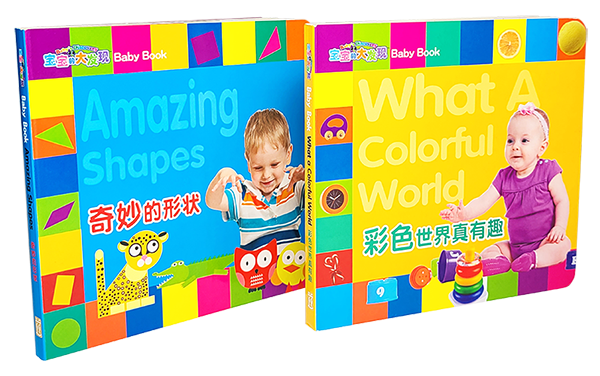 Baby Book(2)
Basic learning of colors and shapes and the contrast of pictures with bright colors stimulate baby's visual ability.
★  What a Colorful World
★  Amazing Shapes
★ Let's look for the colors in our daily life! Theme-based recognition to make learning fun!
★ Magical Shapes! Let's find out what shapes are hidden on the animals!
★ All pages served by our Reading Pen. Touch the animals to hear the sound effects and bilingual dialogue. Even the objects make sounds!
1. Touch the words to hear the pronunciation in English & Chinese.
Touch the Chinese vocabulary once to hear the Chinese pronunciation, second to hear the English version, and vice versa with the English vocabulary. Remember to touch the words twice every time for your children so that their ears can be familiar with both languages.
2. Touch the characters to hear the sound effects and bilingual dialogue.
For instance, touch the puppy the first time it will say 'I have ovals, circles, triangles and rectangles on me, too!' and the Chinese version the second touch. Encourage children to touch different animals to listen to different sound effects, which is the fun of Reading-Pen-served books.
3. Bilingual contextual narration in the background.
You will hear the narration of the context in Chinese for the first touch and English version for the second; for example, 'Wow, you are so great! You found so many different shapes! The world is full of different shapes; open your eyes widely and see, then you can find interesting shapes hidden everywhere!'
Bilingual Learning in English & Chinese
All pages served by our Reading Pen