Production information
Touch & Feel
A set of two books, including 120 kinds of animals, open up the baby's five senses! Make learning happy & fun!
★ Inspire baby's intelligence diversely with the combination of natural observation, learning cognition & five senses stimulation!

★ Partially made of special materials, combined with cut-out art design to meet the baby's desire of touching.

★ With 120 kinds of animals included, it is also a bilingual book with animal sound effects, science knowledge & contextual background music.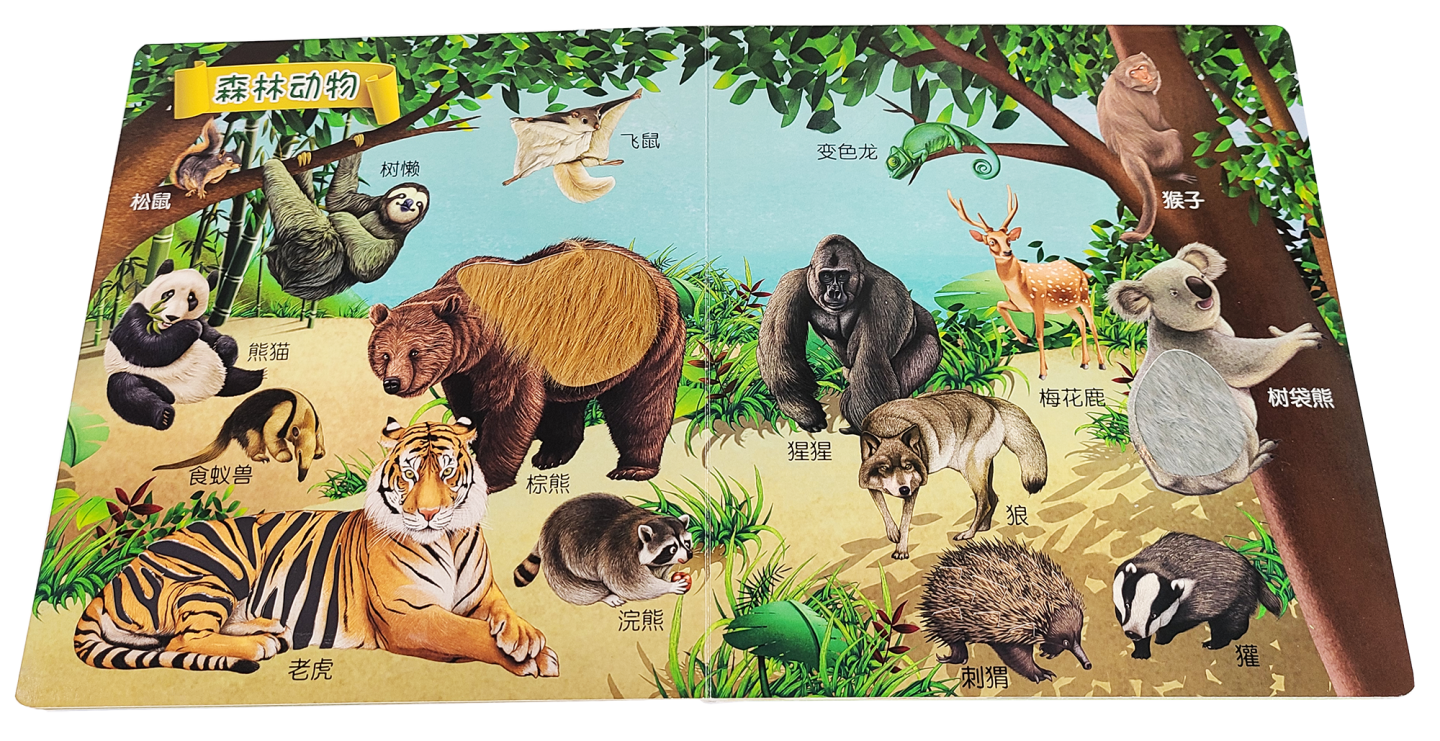 Ten different scenes and a variety of fur and skin materials to stimulate baby's sense of touch. Flip-flap pages can train children's observation.
Fine illustrations present the appearance of various animals to cultivate baby's observation skills.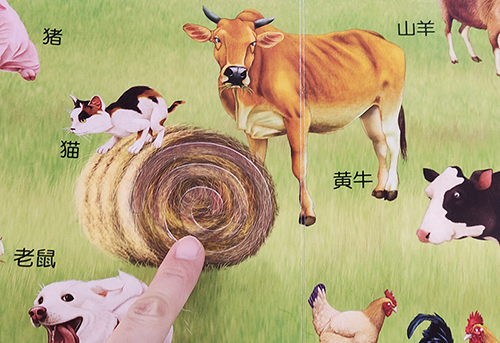 "Guess who I am?" Flip-flap game can train baby's ability to observe details.
Bilingual pronunciation:
First Chinese, then English. Remember to touch the same word twice for your children so that they can be familiar with both languages. Soon, they will be able to say the corresponding word when he sees a picture or text.
1. There are dialogues and sound effects of the animal patterns designed for the reading pen.
     For example, in the "On the Savannah" unit, the giraffe will say "我有長長的脖子,我是長頸鹿,喜歡我的斑紋嗎?摸摸看。" for the first touch; "I'm a giraffe. Do you like my spotted coat? Feel it." for the second. Then guide the baby to touch the spots on the giraffe's neck to stimulate the sense of touch.
2. Every page is smart reading pen readable.
Turn to the last page and find the giraffe's pattern. Listen to the Chinese hint for the first time, and then listen to the English version.
3. Let the baby guess the animal before you lift the flap and listen to the dialogue.
     Let the children lift every flap with their little hands on their own. Touch the patterns and words with the reading pen; listen to the vocabularies and also 
the 
sentences. How amazing! 
4. There are music & songs on the background for even more interesting learning experience.
Touch the background and listen to our elaborate contextual music.
Bilingual Learning in English & Chinese
All pages served by our Reading Pen