Production information
Toddler Book
Baby's FIRST picture book! Let's get to know some new friends!
★ A set of two volumes, containing: Look! Look!, Hi! My Friends!
★ From the visual training of two-color patterns to patterns that are much more colorful.
★ Help children get to know various characters and friends and practice interpersonal interaction.
1. The patterns plus simple vocabularies will open up your baby's language cognition.
2. Hi! My Friends!: Let's Learn how to say hello to everyone!
3. Everything in the book is readable by Reading Pen. Let the children train their hand-eye coordination by holding it and listen to the sounds it makes.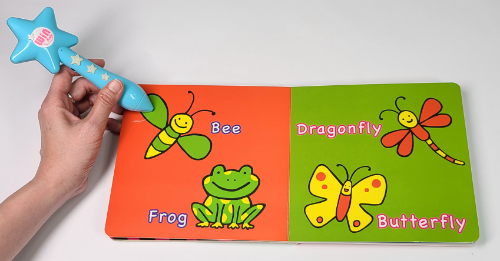 Touch the book-opening code.







Look at the pictures, read the words, and also hear the standard pronunciation and sound effects.






Guide the baby to touch the characters in the book and train their eye-hand coordination. Practice greeting and learn the first English sentences!

Bilingual Learning in English & Chinese
All pages served by our Reading Pen
Toddler Book
Size: 180*170mm
Quantity: A set of two books, 14 pages per book.
Binding & Layout: Cardboard
Copyright: WiN Publishing Co., Ltd.
Suitable Age: 0-2 years-old

Language: English Available
Edition: Simplified Chinese edition, Traditional Chinese edition
Copyright Status: Open to custom production except for Taiwan.
Custom Production: Order accepted only for 2,000(sets)+.